Post-election update with emphasis on estate, gift and income taxes
Date:
Monday, November 17, 2014
Location:
MAC 405 Washington Avenue, St. Louis, MO 63102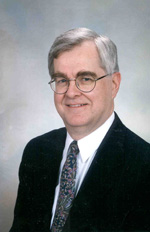 About the talk: The significance of the 2014 election; important personal matchups in Congress; Meaning for Tax Policy Issues of interest to estate planners; Underlying tax currents despite the election
Speaker bio: Ronald D. Aucutt is a partner in the Tysons Corner, Virginia office of McGuireWoods LLP and is co-chair of the firm's Private Wealth Services Group. Mr. Aucutt concentrates on planning and controversy matters involving the estate, gift, and generation-skipping transfer taxes, the income taxation of trusts and estates, and the rules regarding tax-exempt organizations and charitable contributions. He has extensive experience in assisting clients with the transfer of wealth from one generation to another, particularly including the orderly and tax-efficient succession of family-owned businesses. He also advises lawyers and other professionals on tax planning and controversy issues across the entire spectrum of estate planning and charitable giving, including the complex rules governing generation-skipping transfers under chapter 13 and the special valuation rules under chapter 14 of the Internal Revenue Code. He is experienced in resolving tax issues through rulings in the Internal Revenue Service's National Office and in administrative appeals throughout the country. He has contributed to the formation of estate tax policy through legislation since 1976, as well as in Treasury regulations, has served as an expert witness in estate and gift tax matters, and was named in January 2014 to the Internal Revenue Service Advisory Council.
Ron was recognized as one of Washington's 31 "Best Lawyers" in the December 2011 issue of Washingtonian and as one of the top 30 "Stars of the Bar" in the December 2009 issue of Washingtonian; he holds Chambers USA's "Band 1" ranking for Wealth Management; and he was elected to the National Association of Estate Planners and Councils Estate Planning Hall of Fame and given the designation of Distinguished Accredited Estate Planner in 2009. He was awarded the 1995-1996 Estate Planner of the Year Award by the Washington, D.C. Estate Planning Council. His biography appears in Who's Who in America, Who's Who in American Law, Who's Who in Finance and Industry, and Who's Who in the World. He is also listed in the Best Lawyers in America.
Ron is a Fellow and former President (2003-04) of The American College of Trust and Estate Counsel (ACTEC), an academician of The International Academy of Estate and Trust Law and former member of its Council (2000-04), a former Vice Chair (Committee Operations) of the American Bar Association's Section of Taxation (1998-2000), a Fellow of the American College of Tax Counsel and the American Bar Foundation, and a member of the Christian Legal Society. He is also a member of the Advisory Committee of the University of Miami Philip E. Heckerling Institute on Estate Planning, the Editorial Board of Estate Planning, the Board of Advisors of Business Entities, and Tax Management's Advisory Board on Estates, Gifts, and Trusts.
Ron received a B.A. degree in 1967 and a J.D. degree in 1975, both from the University of Minnesota. He has been a lecturer in law at the University of Virginia School of Law. He has lectured on estate planning subjects at over 100 tax institutes and conferences nationwide and is the author of more than 150 published articles on estate planning and other tax subjects. Mr. Aucutt is co-author of Structuring Estate Freezes, published by Warren, Gorham & Lamont and supplemented twice a year.
Ron was in the U.S. Navy from 1970 to 1973. He served in Vietnam and achieved the rank of lieutenant.
Ron and his wife Bunny live in Falls Church, Virginia. They have two sons, David and Jamie, a daughter-in-law, David's wife Evelyn, and a grandson Brayden, who all live in Chicago.