rescheduled 1/28/14 - Recent Developments in Estate Planning Update
Date:
Monday, January 6, 2014
Location:
MAC 405 Washington Avenue
Speaker:
Stanley Johanson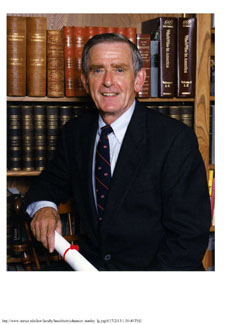 This meeting is canceled due to the weather conditions. It will be rescheduled.
Registration Link: https://www.123signup.com/register?id=bkhzh
Topic: Recent Developments in Estate Planning Update
About the Talk: Recent Developments Affecting Estate Planning. American Taxpayer Relief Act of 2012 and its effect on estate planning; transfer tax provisions of Obama Administration Fiscal Year 2014 Budget Proposal; recent cases, regulations and rulings relating to valuation issues, defined value clauses, family limited partnerships, life insurance, qualified plans and IRAs, disclaimers, and other estate planning topics.
Estate planning for "mere millionaires" in a $5.25 million exemption world.
Portability election—pros and cons of filing an estate tax return for a nontaxable estate.
The importance of CYA letters, and why they shouldn't be sent out as standard boilerplate forms from your word processing machine.
Lifetime gifts to remove appreciating assets from the client's gross estate??? How ATRA 2012 has turned estate planning on its head.
Is it possible to secure an estate tax inclusion and thus a step-up in basis for a bypass trust?
Why "to my children in equal shares" is (almost) always the wrong provision for a client's will.
Speaker bio:
Mr. Stanley Johanson is a Professor at the University of Texas since 1963. He received his Bachelor degree from Yale University in 1955, followed by Bachelor of Laws from University of Washington in 1958 and his Master of Laws from Harvard Law School in 1963.
Mr. Johanson has been the recipient of numerous honors such as: in 1997 - Treat Award for Excellence; in 2005 - Lifetime Achievement Award as Distinguished Probate Laywer for contributions to Texas Trust & Probate Law; in 2008 - Elected by Nat'l Association of Estate Planning Councils to Estate Planning Hall of Fame and in 2012 - Outstanding Tax Lawyer Award.
His professional activities include: Life Member, American Law Institute; Academic Fellow, American College of Trust & Estate Counsel; Fellow, International Academy of Estate and Trust Law Counsel; Texas Academy of Probate Lawyers; and Member of Texas, Washington (state, inactive) and American Bar Association. Stanley has authored publications including Wills, Trusts & Estates, Gilbert's Law Summary on Wills and Johanson's Texas Probate Code Annotated.